New age digital technologies are transforming the world and spawning a massive demand of specialists in areas like data analytics, IoT, Embedded systems, Security, Networks and cloud etc. While specialists in data analytics are powering organisations with transformative capacities to win in their businesses, the IOT and Embedded systems specialists are revolutionising our lives and society. Massive growth in connectivity means greater need for security specialists and huge connected infrastructure needs specialists in network and cloud.
M.Tech Software Systems is a unique programme that enables working professionals to specialise in many new age technology areas and be ready to transition into high demand careers. The programme enables the learners to specialize in some of the fastest growing domains like Data Analytics, Internet of Things, Embedded Systems, Security, Networks and Cloud. A comprehensive curriculum, extensive emphasis on experiential learning using remote labs and cloud labs and a flexible education methodology that enables working professionals to acquire a prestigious post graduate engineering degree while pursuing their careers, the M.Tech Software Systems is just the right programme for career growth in the software industry.
Admissions are currently open. Classes begin on Aug 8, 2020.
Option to pay fees using easy EMI option with 0% interest
Admission Enquiry
Please fill the below fields for fee details, programme information, and application instructions
Profile of M.Tech. Software Systems programme participants
Professional Experience of Participants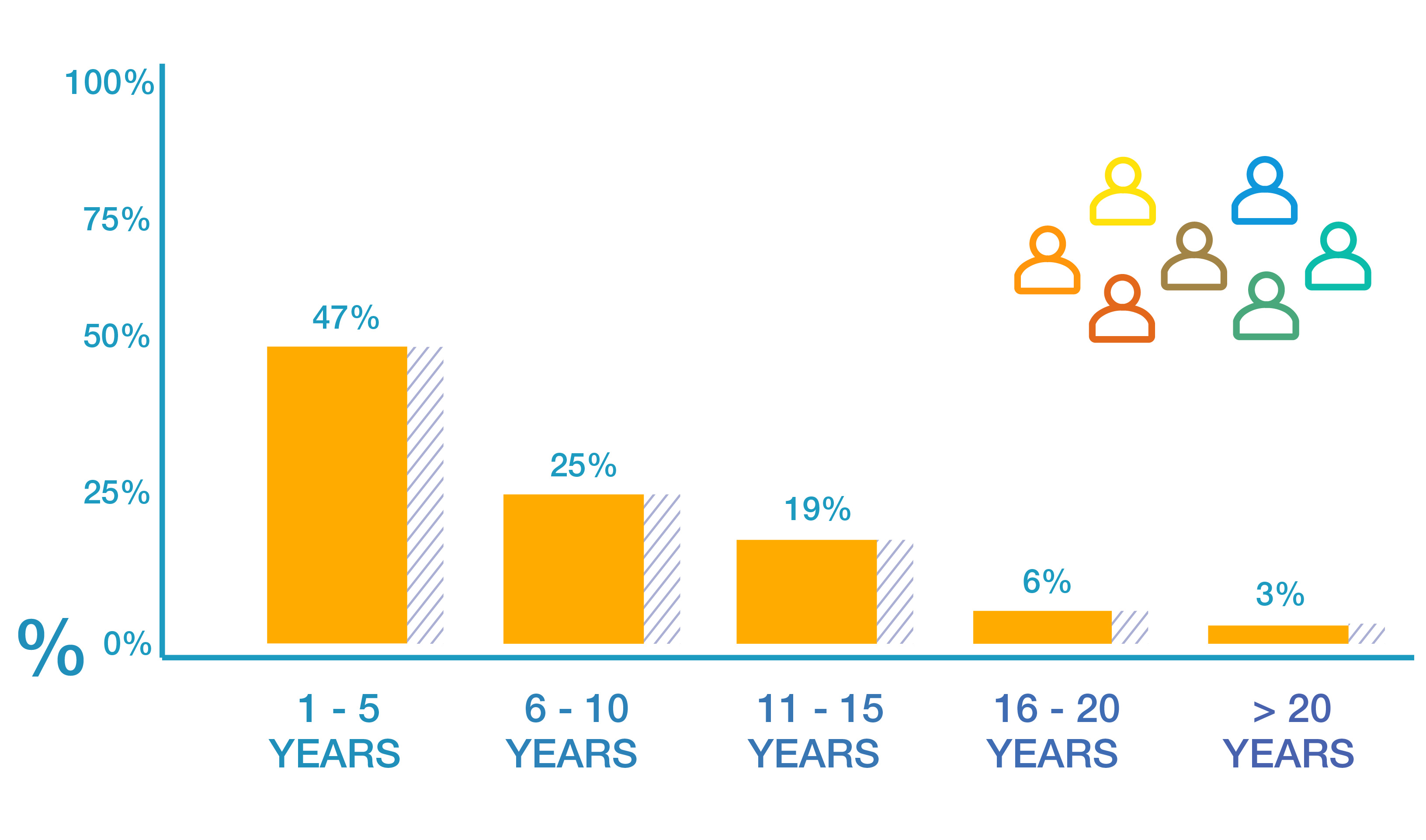 Major Organisations where Participants work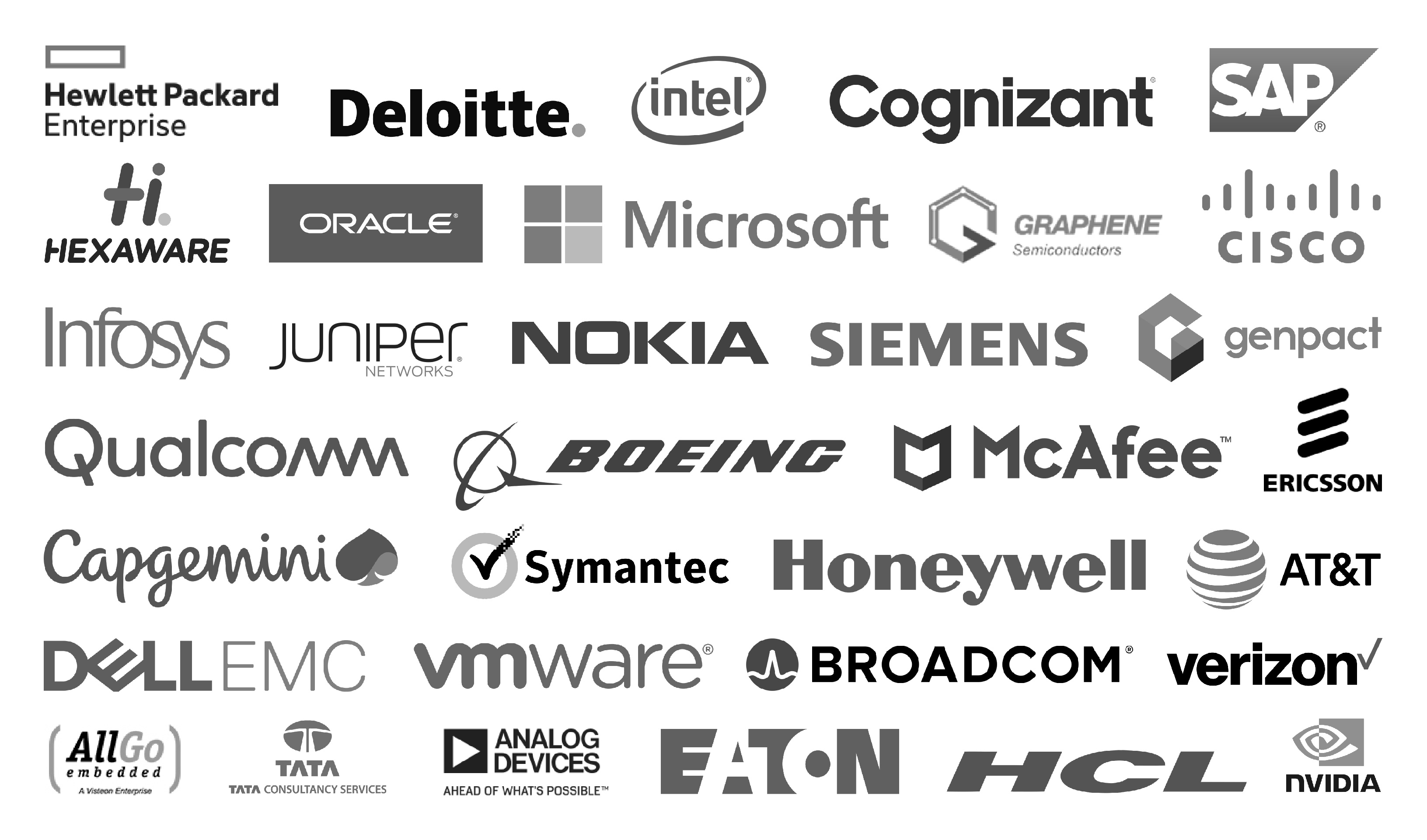 Organisations where participants are employed at the time of joining the programme
Programme Highlights
Programme Curriculum
Learning Methodology
Eligibility
Fee Structure
How to Apply
Programme Highlights
The programme is of four semesters, with online classes conducted mostly on weekends or after-business hours.
The programme offers a set of core courses and elective courses, allowing students to specialize in Data Analytics, Internet of Things, Embedded Systems, Security, Networks and Cloud.
The programme makes use of Languages, Platforms, and Libraries. These include NS2, Net-SNMP, WireSha, R, Python, Prolog, Lisp, RStudio, Weka, Microsoft Power BI, TensorFlow, Anaconda Navigator, Python Ecosystem – NumPy, SciPi, Pandas, scikit-learn, MatplotLib; Searborn, Keras, NLTK, pgmpy etc., Keil, CCS Studio, Tossim, Cheddar, Jenkins, GitHub, SonarQube, Selenium, Tomcat, Maven, Java, Eclipse, Code::Blocks, Android Studio, Jupyter Notebooks, Spyder, Multisim, CPU-OS Simulator, SQLite, MATLAB, , Gantt Project, Open Project and XAMPP.
The Dissertation (Project Work) in the final semester enables students to apply concepts and techniques learnt during the programme.
The programme uses a Continuous Evaluation System that assesses the learners over convenient and regular intervals. Such a system provides timely and frequent feedback and helps busy working professionals stay on course with the programme.
The education delivery methodology is a blend of classroom and experiential learning. Experiential learning consists of lab exercises, assignments, case studies and work integrated activities.
Participants who successfully complete the programme will become members of an elite & global community of BITS Pilani Alumni
Learning Continuity Assurance facility that allows participants to take a break without losing the semester fee paid by them. Download programme brochure for details.
Option to submit fee using easy-EMI with 0% interest. Enroll with only INR 7,428 in the first month
Programme Curriculum
The programme offers specialisations in high-demand areas such as Data Analytics, Internet of Things, Embedded Systems, Security, Networks and Cloud.
Electives can be chosen either from the General pool of electives or from across other pools of electives for Specialisations. Specialisations are optional. To earn a Specialization, a participant must select and successfully complete at least 5 courses from that Specialisation pool.
First Semester
Data Structures & Algorithms Design
Database Design & Applications
Distributed Computing
Elective 1
Second Semester
Software Architectures
Elective 2
Elective 3
Elective 4
Third Semester
Elective 5
Elective 6
Elective 7
Elective 8
Electives
Artificial Intelligence
Computer Organization and Software Systems
Distributed Data Systems
Software Engineering and Management
Usability Engineering
Object-oriented Analysis & Design
Specialisation in Data Analytics
Participants that earn a specialization in Data Analytics will learn how to apply principles behind modern data analytics techniques; Apply statistical and machine learning methods to real data; Evaluate their performance and e?ectively communicate the results; and Build expertise in advanced Artificial Intelligence topics such as Deep Learning and Natural Language Processing
Pool of Electives
Advanced Statistical Techniques for Analytics
Applied Machine Learning
Metaheuristics for Optimization
Data Mining
Data Warehousing
Deep Learning
Information Retrieval
Mathematical Foundations For Data Science
Natural Language Processing
Specialisation in Embedded Systems
Participants will gain expertise in key areas of Application (Domain) Specific System Design such as scope of a Processor (Embedded processors, Desktop systems, Servers, and Supercomputers), the target application (general-purpose versus domain-specific), the characteristics of the design objectives (Speed, Power consumption, Cost, Reliability, Availability, and Reconfigurability), and the measurement and analysis of resulting designs.
Pool of Electives
Embedded Middleware Design
Embedded System Design
Fault Tolerant Embedded System
Hardware Software Co-Design
Networked Embedded Applications
Parallel Embedded Architectures
Real Time Scheduling
Real Time Systems
Software for Embedded Systems
Specialisation in Networks and Cloud
Participants will build expertise in how to design, and manage software and hardware that control digital networks; Conceptualize and solve Engineering problems with reference to wireless and mobile networks effectively and arrive at the feasible optimal solution, individually and in teams; Master formal techniques for network analysis, design and operate data centers; Network Security aspects Storage Area Networks, Virtualizations, and Cloud Computing Concepts which has great scope and opportunities in Industry; Apply advanced software engineering techniques (e.g., software-defined networks, containerization, etc.) to compute, improve and master the development of distributed networks.
Pool of Electives
Advanced Computer Networks
Cloud Computing
Computer Networks
Data Storage Technologies and Networks
Design and Operation of Data Centres
Edge Computing
Middleware Technologies
Mobile Networks
Network Programming
Network Security
Software Defined Networks
Wireless and Mobile Communication
Specialisation in Security
Participants will build expertise in implementation of core software engineering principles and the best cyber security practices in terms of policies, models and mechanisms; gain knowledge about securing computer networks and systems; learn to examine secure software design and development practices in cyber security; understand the prevalent network and distributed system attacks; incorporate approaches for incident response and security risk management; understand the key concepts in domain specific security.
Pool of Electives
Cyber Security
Cryptography
Network Security
Ethical Hacking
Identity and Access Management Technologies
Cyber Crimes, Forensics and Incident Handling
Cloud, IoT and Enterprise Security
Secure Software Engineering
Blockchain Technologies & Systems
AI and ML Techniques in Cyber Security
Specialisation in Internet of Things
Participants will build expertise in the building blocks of IoT technology and explore the vast spectrum of IoT applications; Assess, select and customize technologies for IoT applications; Connect the cyber world with the physical world of humans, automobiles and factories; Integrate geographically distributed devices with diverse capabilities; Design and implement IoT applications that manage big data
Pool of Electives
Embedded Systems Design
Cyber Physical Systems
Networked Embedded Applications
Cross Platform Application Development
Cloud Computing
Data Management for IoT
Stream Processing and Analytics
Embedded Network Security
For more information on programme curriculum download the programme brochure.
Choice of Electives is made available to enrolled students at the beginning of each semester. A limited selection of Electives will be offered at the discretion of the Institute.
Learning Methodology
EXPERIENTIAL LEARNING
The programme emphasises on Experiential Learning that allows learners to apply concepts learnt in classroom in simulated, and real work situations. This is achieved through:
Cloud based virtual lab which supports the following programming languages/tools/simulators:

Networks: NS2, Net-SNMP and WireShark
Data Analytics:

Languages: R, Python, Prolog and Lisp
Platforms: RStudio, Weka, Microsoft Power BI, TensorFlow and Anaconda Navigator
Libraries: Python Ecosystem – NumPy, SciPi, Pandas, scikit-learn, MatplotLib; Searborn, Keras, NLTK, pgmpy etc.
Embedded and IOT: Keil, CCS Studio, Tossim and Cheddar
Devops: Jenkins, GitHub, SonarQube, Selenium, Tomcat and Maven
Programming Environments: Java, Eclipse, Code::Blocks, Android Studio, Jupyter Notebooks and Spyder
Others: Multisim, CPU-OS Simulator, SQLite, MATLAB, , Gantt Project, Open Project and XAMPP

Remote Lab facility caters to the needs of resource intensive requirements of Big Data Analytics applications with the following platforms:

Apache Hadoop
Apache Storm
Apache Spark
Apache Kafka
MongoDB,
CockroachDB
MPI

Remote Lab facility caters to the needs of Embedded Systems and IoT. It supports the following:

Hardware / Software tools: MultiCore STM32 microcontroller based development boards.
Simulation tools: Tossim, Cheddar and Keil
Case Studies and Assignments
Carefully chosen real-world cases & assignments are both discussed and used as problem-solving exercises during the programme.
Dissertation/ Project Work
The fourth semester offers an opportunity for learners to apply their knowledge gained during the programme to a real-world like complex project. The learner is expected to demonstrate understanding of vital principles learnt across semesters and their ability to successfully apply these concepts.
ATTEND ONLINE LECTURES OVER WEEKENDS
Lectures are conducted live via online classes. These lectures can be attended via the internet using a computer from any location. These online classrooms offer similar levels of interactivity as regular classrooms at the BITS Pilani campus.
Classes for students admitted during the period May-June 2020 will begin in July 2020. The class schedule is announced within 1 week of completion of the admission process.
The online lectures are conducted usually over weekends for a total of 7-8 hours per week. If you miss a lecture, you can also access the recorded lecture on the internet.
DIGITAL LEARNING
Learners can access engaging learning material at their own pace which includes recorded lectures from BITS Pilani faculty members, course handouts and recorded lab content where applicable.
CONTINUOUS ASSESSMENT
Continuous Assessment includes graded Assignments/ Quizzes, Mid-semester exam, and Comprehensive Exam.
Eligibility
Minimum eligibility to apply: Employed professionals holding B Tech., BE, M.Sc, MCA or equivalent in relevant disciplines with at least 60% aggregate marks and minimum one year of work experience in relevant domains.
The programme is designed for highly driven and ambitious engineers working for software services or product companies and wish to advance their careers in hyper-growth areas of Software Engineering, Embedded systems, Data Analytics, Telecommunications or Networking.
If you are an IT professional in a technical role such as Software Developer, Test Engineer, Lead Engineer, Architect, or techno-managerial role such as Product Manager and Project Manager, you should consider applying to the programme.

Fee Structure
For fee details, programme information and application instructions, please click here to download the Programme Brochure.
How to Apply
For application instructions, programme information and fee structure, please click here to download the Programme Brochure